Research Data Management (RDM)
---
Definition of Research Data Management (RDM)
Research Data Management (RDM) is the process that includes all methods and procedures that aim to make research data usable over the long-term. RDM usually includes the following steps:
Planning
Data Collection
Data Processing & Analysis
Data Sharing & Publishing
Digital Preservation
Data Discovery & Reuse
Research data life cycle
The RDM steps can be represented as a cycle called the research data life cycle: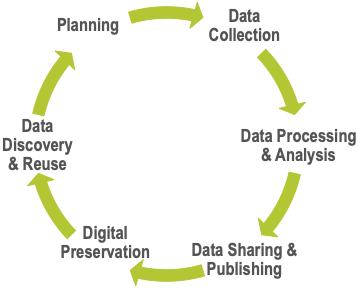 Benefits of RDM
Researchers' own interests

Good Scientific Practice (GSP)
Knowledge management / transfer
Preventing data loss
Saving yourself time in the future

External interests

Research funders
Publishers
Researchers' own institution
Consequences of poor RDM
Consequences of poor RDM include paper retraction (e.g. González Amorós & de Puit).
Further resources
Edit this page